2023 has just started – and it's a great start for 'Battery Pass': A live-streamed session of The World Economic Forum Annual Meeting in Davos was dedicated to the question "why we need battery passports", formally announcing the launch of the world's first battery passport proof of concept by the Global Battery Alliance (GBA), an initiative originally incubated by the World Economic Forum. Discussion points included how a battery passport can contribute to protecting human rights, safeguarding the environment, and informing consumer decision-making.  
Batteries power the energy transition to a sustainable future but require critical minerals, the extraction of which comes with environmental and human rights risks. Digital battery passports will be a core tool to enable the sustainable scaling of battery value chains globally. Several initiatives have been formed around battery passports, among these the Battery Pass with its consortium of 10 industry leading and impacting partners, supporting the realization and implementation of the battery passport according to the new EU Battery Regulation and beyond.   
The GBA and the "Battery Pass" project are associated partners since the launch of the "Battery Pass" consortium in 2022 jointly supporting the shared objective of scaling battery passports globally to achieve consistent high quality sustainability data reporting. 
Concretely, Battery Pass and GBA are working on  
setting globally harmonized rules to calculate the carbon footprint of batteries with the forementioned Battery Pass complementing the GBA Greenhouse Gas Rulebook by covering the use and end of the life phase; 

 

shaping a work stream to support and expand the GBA sustainability index framework (e.g., human rights, child labor etc.).

 
"By creating a harmonized performance standard and framework through the Rulebooks, we will be able to make transparent supply chains the norm creating the pathway to address the issues that are the most salient – and with the urgency they require," explained Inga Petersen (Executive Director, GBA). She furthermore laid out: "Establishing this proof of concept is a major milestone, but it is only the beginning. We will build on this and continue to build more comprehensive indicator frameworks including streamlined indicators on circularity, for example. Critically, we also need to work on enabling interoperability with existing standards, systems and frameworks, and addressing mission critical issues of data governance, disclosure, commercially sensitive information and data verification." 
BASF, one of the 10 leading Battery Pass Consortium partners, was represented in the GBA session by Dr. Martin Brudermüller (Chairman of the Board of Executive Directors, BASF SE). He laid out that "it is very evident that we need to design this value chain of sustainable battery supply, but also end of life strategies play a key role. It is in the absolute interest of everyone to really tackle this and make it transparent."  
Other public speakers were: David Gelles (Reporter, The New York Times), Benedikt Sobotka (Chief Executive Officer, Eurasian Resources Group Sàrl), and Dame Ellen MacArthur (Founder, Ellen MacArthur Foundation).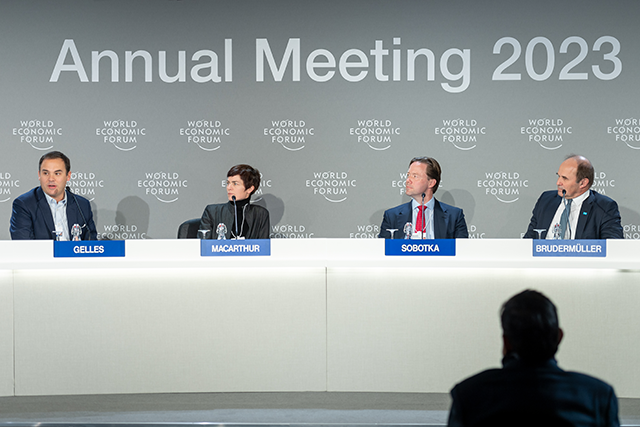 From left to right: David Gelles (Reporter, The New York Times), Dame Ellen MacArthur (Founder, Ellen MacArthur Foundation), Benedikt Sobotka (Chief Executive Officer, Eurasian Resources Group Sàrl), Dr. Martin Brudermüller (Chairman of the Board of Executive Directors, BASF SE)